Ethiopia Mobilizes Special Forces to Confront TPLF
The battles between the Federal Army and the forces of Tigray People's Liberation Front (TPLF) continue, and Ethiopia is mobilizing its forces to confront the "Tigranians" on the borders of Amhara and regions in Tigray.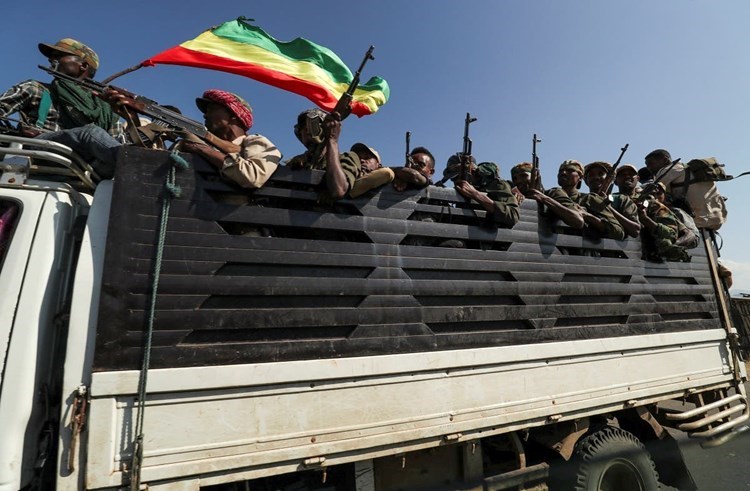 Ethiopian News Agency reported that mobilizing the special forces is a step to deter the "provocative actions" of the TPLF on the borders of Amhara and regions in Tigray.
The Tigrayans are fleeing from what they say is a high wave of ethnic violence hitting the far west of the Ethiopian region of Tigray.
However, this fertile area remains captured by soldiers and units loyal to the federal government in Addis Ababa.
Prime Minister Abiy Ahmed vowed to repel "enemy attacks" and said in a statement on Twitter, "We will defend ourselves and repel these attacks from our internal and external enemies while working to speed up humanitarian efforts."
"Reports of the expansion of the war in Tigray are concerning, as continued fighting will only lead to needless suffering and death", US Ambassador to the United Nations Linda Thomas Greenfield said on Twitter, adding that "all parties to the conflict should immediately agree to a negotiated ceasefire and political dialogue."
On Friday, Amnesty International accused the Ethiopian authorities of arbitrarily detaining dozens of "Tigranians" in Addis Ababa and other places since the TPLF regained control of the regional capital last month, Mekele, which is witnessing a devastating war.
The organization reported that those detained included activists and journalists and some have been beaten and transported hundreds of kilometers from the capital, adding that the total number is likely to be in the hundreds, with the whereabouts of many unknown.
Ahmed sent troops to Tigray last November to arrest and disarm the leaders of the TPLF, which rules the region.
He said that this step came in response to the front's launch of attacks against the federal army camps.
The 2019 Nobel Peace laureate declared victory in late November after federal troops took the regional capital Mekele, but fighting continued and TPLF leaders remained on the run.
In late June, the conflict took a turn when TPLF fighters reclaimed Mekele and Abiy declared a ceasefire.
The recent arrests of Tigrayans outside Tigray began after that, Amnesty reported.
And Ahmed's government has previously denied engaging in ethnically motivated arrests.
The United Nations warned in early July that more than 400,000 people had "entered into famine" in Ethiopia's northern Tigray region, which has been mired in war for months.
However, Ethiopian authorities threatened to prevent aid from entering the largely cut-off Tigray region, where hundreds of thousands face famine conditions, because of the rebels' re-control of the regional capital.
Last month, the Tigray forces regained control of much of the region, including the regional capital, Mekelle, while Ethiopian forces retreated and the government declared a unilateral ceasefire.